The Project:
Welcome to The Citizen's Story! My name is Jamie Piltch, and I am a writer traveling across the country talking to people about our country and its citizens. The main questions I'm asking are pretty simple: What does it take to be a good citizen? And what does it mean to be an American?
I decided to undertake this project for two reasons.
First, I studied the history of civics education in college. As I was writing my senior thesis, I was alarmed to find that citizenship tends not to be taught in schools today. This work got me thinking, "Do people care or think about citizenship if it isn't taught?"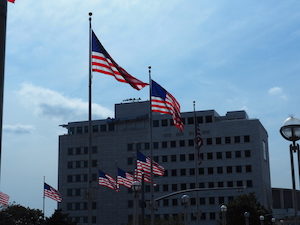 Second, the rhetoric after the most recent election – when people would often call people of the opposite political party "un-American" – scared me. My feeling was that this couldn't possibly be true. Perhaps naively, I believed that at the end of the day, polarization had not become so bad that we couldn't see other people as good citizens even if we disagreed with them.
Now, I'm out to prove that there are still things we agree on. Over three months, I will be traveling through over twenty states (see the ever-changing route) to places far different from where I come from. During my travels, I hope to talk to over two hundred people of all different backgrounds and beliefs in order to identify our shared civic values.
The Blog:
On this blog, you'll find several types of posts that get at these questions of citizenship and agreement.
If you're looking to hear other citizens' voices, click here to see the interviews I've done. I do have some favorites so far that I think give a feel for the blog and for what I've been hearing. I would recommend reading:
I'm looking for more people to engage with my work. If you want to tell me about what makes a good citizen, please fill out this form.
I'm not just doing interviews during my travels. As I've been going, I've also been reflecting on what I'm learning, how I'm being challenged, and what I'm seeing. You can find my reflections here. To start out, I'd recommend reading my thoughts on leaving my educational bubble.
I also know that a lot of people are craving ways to be better citizens. If that's what you're looking for, I'm doing a post series on concrete things to do. I think the most helpful post so far is on how to stay informed in an era of media mistrust and polarization.
Also, please feel free to learn more about the project, the (poor) state of citizenship, and my thoughts on being a good citizen.
My Work:
You can find my published writing in the Boston Globe, The GroundTruth Project, The Harvard Crimson, and The Forward (coming soon).
My work has also been featured on the Smerconish Show on Sirius XM Radio and in The Harvard Crimson, The BG Independent, and The Patch Waukesha.
Please email me at [email protected] with any questions!